BRAINSKIP 15

– THE RICKY GERVAIS TRIBUTE ACT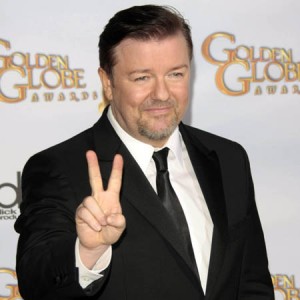 This week was a tough one for RG, creator of the Office and his own cartoon show based on the true comedic mutterings of Carl Pilkington, who in my mind is truly the engine behind most of Ricky G's success.(I'm just trying to come up with various ways to make the name Ricky Gervais cool, lets face it, it's not a cool name, it's just not, so lets try to look past this and make it cool) Ricky Tick!
He opened the Golden Globes with a truly awesome display of mean-ness towards anyone in the vicinity of Charlie Sheen and The Tourist, accusing Hollywoods Foreign Press Association of giving the aforementioned film a nod, just so they can hang out with Johnny Depp and Angelina Jolie…What, I hear you cry? An awards ceremony scandalised by shallowness, quelle surprise!!!So RGERV was taken aside for an hour and apparently crawled back out onstage a humbled man, with the word that many of the stars were not happy. So, allow me to take this time to celebrate some of his finer moments, as well as suggesting possible career choices for the Rickster in the future, before Hollywood turns its back on he, who was not afraid to dare!
THE MEL GIBSON MOMENT
There are a lot of reasons to throw mud at this great heaving anti-semite, but RG got in there last year with a lovely introduction. "I like a drink as much as the next man…unless the next man is Mel Gibson"
THE TAKEBACK
One of the reasons the Americans love Ricky Gervais is not him at all, rather that they think he's the English Steve Carrell, and everyone loves Steve Carrell. This was a lovely orchestrated moment between the two when RG went to get his award back from the previous year that Carrell had allegedly stolen. The American audience were shocked at his audacity and the stare-off. I was shocked Carrell didn't just slap him. For the craic, you see.
THE FILM VERY FEW PEOPLE SAW
The Invention of Lying was actually quite a clever idea for a comedy and was pretty well executed. It was quite touching without being mawkish and funny without being hilarious, more a witty look at the world and the way that we need little white lies to get through our every day lives. One of the lovely moments was the Coca Cola ad, stripped down to it's bare necessities.
THE ELMO
Three things you can't go near. Drugs, Child Abuse, The Holocaust. He must be the only person ever to say these things on Sesame Street
THE STAND-UP
People criticised Gervy when he came out and started doing stand-up and admittedly some of it was v. hit and miss when he started, but he hit, he really hit like when he put Hitler and Nietzche in the same room. Yeah. Super. Man!
THE DANCE THAT WE NEARLY FORGOT, OH NO, NO WAY, NOT EVER WILL WE FORGET IT. EVER. IT'S LIKE LEONARD NIMOY AS SPOCK. NEVER FORGET THIS. IT'S YOUR BEST WORK.
If there was one thing he shouldn't have been able to get past, it was that dance. But he did. And went on to write comedy for the Worrrllllldd!!!!!! But after watching this, who would have thought that he was going to be the comedic force of nature that he is. Really. I mean, it's like Reginald Perrin on speed. And he's now like a comedy God. Never saw that coming. Never.