BRAINSKIP 14 – I WISH I WAS SOMEONE ELSE, BY BRIAN COWEN.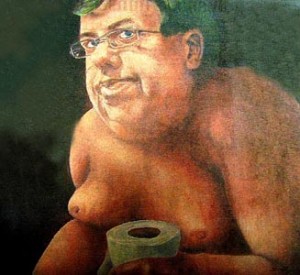 In a week where it was revealed that Brian Cowen, aka BC, leader of Iceland, sorry I meant Ireland, was discovered to have been having dinner with the leaders of Anglo-Irish, the bank that brought Ireland to its knees, his departure from the international stage is imminent. He must be wondering how this happened or how it has all come to this, and I wonder if he's been thinking about how different it could have been.
I WISH I WAS SOBER…
One of the first signs that BC, or Biffo, (Big Ignorant Fecker From Offally for those not from Ireland, you have to wonder why we're not respected on the world stage) didn't really give a damn anymore, was when he turned up to a major radio interview to discuss the cuts that were going to happen…while still drunk. We're not a proud people.
I WISH I WAS SILVIO…
You wonder if BC is thinking to himself, I should just go all out and be a complete bollix like that fellah in Italy, the amount of stuff he's gotten away with, makes me look like an altar boy. Here's the Silvio, sliding his charm all up the back of a traffic warden, in an extraordinary daylight smack and grab. I think Berlusconi is Italian for Pimp.
I WISH I WAS A FREAKY KITTEN
This is the exact look I believe BC gave to Angela Merkel when she revealed exactly how much money Ireland was going to have to pay to Germany and the EU to get out of trouble.
I WISH I WAS A BRICK THIEF
If only BC had the appeal of Lego© Charming, solid, durable and loved by Millions, but instead, he's the wrong sort of Brick Thief. This is how charming it is when the things you are stealing are small plastic bricks of joy as opposed to peoples houses, dreams, hopes etc…I'm moving to Denmark.
I WISH I WAS A DOLPHIN…
Having always struggled with his comparison to some sort of beached whale, maybe BC has wanted to express himself as a different type of underwater creature, one with a bit more grace and elegance. Thanks to this James Bond like submersible boat, the SeaBreacher, he gets to be exactly that.
I WISH I WAS KANYE WEST…
Perhaps as BC is driving down Merrion Boulevard, in his Black Top pimped out government ride, he's thinking, how can I turn myself around like Kanye, he had that whole embarrassing rant against that young cute Country singer, and yet he's still standing. How, how, how, can I turn it around. I know, I'll get Zach Galifinakis to lip sync my speeches, like in this video. That's the key…
I WISH I WAS MARSHAWN LYNCH
I know, I know, Who??? He's an American Football Player. No, come back, really, this does fit, I know I've stretched things, but it really does fit. He just scored an unbelievable touchdown against New Orleans in the Superbowl Playoffs, and I can imagine BC evading tacklers from every political party against impossible odds as he makes it to the next elections. Ok, ok, so it was a stretch, but what a cool touchdown.