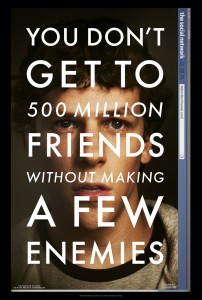 THE SOCIAL NETWORK – ALL THINGS AARON SORKIN AND DAVID FINCHER
The Social Network is released this week, bringing together the very different talents of David Fincher, Director of modern classics such as Seven, Zodiac and Fight Club and Aaron Sorkin, Writer and Creator of The West Wing to tell the story of Facebook.
Ok, you're right, that sentence seems very odd. And really, a film about Facebook, how interesting could it possibly be. Actually. Very Interesting. And Surprisingly Funny. Based on Ben Mezrich's "The Accidental Billionaires: The Founding of Facebook", and starring Jesse Eisenberg, he of Zombieland fame, The Social Network manages to tell the story of what is essentially the invention of a website, and a subsequent lawsuit and make it very entertaining. Eisenberg's not the only big hitter, there's Andrew Garfield, who will soon appear as Spiderman and Justin Timberlake, who does not suck in any way, as you might expect him to, starring as the slightly deranged founder of Napster, Shawn Fanning.
But the real heavyweights are the Writer and Director. Aaron Sorkin created and wrote "The West Wing", perhaps one of the greatest, (ok, in my eyes at least) TV shows ever. It was quick, witty, political and compassionate. When I was completing one of those inane questionnaires for a website during the Edinburgh Festival, I was asked to describe my comedy, I pitched at Aaron Sorkin meets a wookie, as I try to pitch my shows like this. Fact, Funny. Fact. Funny Funny. Fact, Tears head off a Stormtrooper, Funny,
WEST WING – MAD TV SKETCH
If you're not familiar with the 7 series of The West Wing, there's no point in getting into it now. Just go. Buy it, Download it, do whatever. There's a lot of walking, a lot of talking and lots of political shenanigans that nobody understands. This is perhaps best captured in this MAD TV sketch
FIRST RULE ABOUT GLEE CLUB
Every red blooded male has a copy of Fight Club, David Finchers dark opus to the rise of the male anarchist sprinkled with a dash of schizophrenia. What every red blooded male does not have is a copy of "Express Yourself" by Madonna, one of David's earlier works. Seriously, What if David Fincher directed a Glee Club episode. I know, I know, nobody could talk about it.
http://www.youtube.com/watch?v=12wP5W2R0wY
ZACH GALIFINAKIS – BETWEEN TWO FERNS – THE SOCIAL NETWORK
If you've never seen Zach interview celebrities between two Ferns. Literally. Between two ferns. Then you've never lived. Some clever pants has mashed some of the best moments into an ad for a different type of Social Network film. After you've watched this, what you do is you watch the Bruce Willis Interview. Zach-"How many children do you have?". Bruce – "Three". Zach – "Who's your favourite? Ashton?"…A.Mazing!
http://www.funnyordie.com/videos/3b338aa608/the-social-network-trailer
SORKIN AND HIS SOOTHSAYERS POWERS OF SECOND SIGHT!!
The final season of the West Wing centred on a candidate, who was a latino, and who came out of nowhere to win the Presidential election. It was based on a certain Sen. B. Obama, before he'd even declared. Conclusion. Sorkin is a witch, We must burn him.
http://www.guardian.co.uk/world/2008/feb/21/barackobama.uselections2008
GRAPHIC NOVEL – EX MACHINA or Le Tueur. TAKE YOUR PICK
If Fincher and Sorkin were to ever get together and compose a graphic novel. It would probably look something like Ex Machina. The set-up is conventional enough, telling the story of a New York Civil Engineer who's granted superpowers after coming into contact with something glowing under the Hudson river. What takes this particular graphic novel into different territory is that he then decides to run for Mayor, on the back of the fact that he stopped the second plane crashing into the Twin Towers. Political, dark, and the flawed nature of Man. Sounds very Finchorkian! © However, Mr. F is already in pre-production on an adaptation of the bestselling French graphic novel, Le Tueur. (The Killer) about a French assassin losing his mind, after a botched job. We can only wait with baited breath for the French graphic novel, The Cheaters about the French Football team.
http://www.comic-book-collection-made-easy.com/the-killer.html
http://www.dccomics.com/wildstorm/graphic_novels/?gn=2500
FACEBOOK – GAME
Ok, so there's all sorts of games you can play on Facebook, including something called Farmville, which looks too much like hard work and frankly feels a little bit communist in a sort of George Orwellian way. At BrainSkip, we prefer something simpler to end the days with, so here's a link to Word Challenge…You will like it. You will hate it. You will tear your hair out. Heh! http://www.facebook.com/wordchallenge
AND FINALLY,
Once you've looked at all of these, go see The Social Network. That is all.