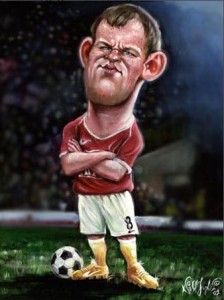 BrainSkip 3 -Shakespearean Scale Betrayal and Sport. Discuss!
ROONEY
So, in honour of the week that Wayne Rooney turned into the latest Iago of premiership football, unhappy with his quadzillion pounds a week for kicking a pigs bladder around a pitch, threatening to leave United before eventually signing a new deal, while on the verge of betraying Alex "Othello" Ferguson, (Othello of course because that's what he sounds like when he's trying to say "I tell you" with the accent that could not be penetrated with a deep space satellite) BrainSkip this week looks at Sport in all its glorious Betrayals.
Before we turn all cynical, we should see some of Rooneys best goals…as scored on the playstation 3, and a clip of a player actually dying in Pro Evolution soccer…which has 2 million hits…really????
THE FRENCH
Do I need to say any more? Baguette chomping, croissant molesting, ball handling bunch of misanthropes who think it's outrageous to work more than 3 hours in a day, and think the retirement age should be lowered to the year after they start working.! Yes, we're all watching as you run out fuel the same way we ran out of hope the minute you put the ball in the back of the net with that giant hand of yours.
As repayment, have a look at He-that shall not be named-nry hiding out

in America, land of the "we don't know much about soccerball!" – and how great it is that the A/V guy, who must have been Irish snuck the clip of him handling into the background while the interview was on. Go on ya boya. And yes, we're never letting it go!
SEAN OG O HAILPIN
If you don't know what hurling is, it's hockey at eye level, and one of its greatest players retired this week. For every Iago, there must be a Cassius and this is he. In a sport that utilises speed skill and brutality while in possession of a flattened baseball bat, few were fiercer than O'hAilpin and yet, he was a complete gentleman.

Hurlers and most GAA players don't get paid a penny and it is a credit that the greatest stadium in Ireland for years was due to this organisation of Amateur sportsman, who truly played for the love of the game. Until the day the Premier League formally declares itself bankrupt and starts again, this is the nearest you get to sporting heroes. Here's some highlights in a very rocknroll/skateboard punk way
. For the record I could never play hurling simply due to my name. It doesn't really work when you turn up to train and the coach calls out the names, "Sean óg, Donal óg, Diarmuid, Setanta, Keith….Keith..you mind the water"
ADVERTISING
We all know Nike want you to just do it, but there's a spate of viral videos showing sportsmen doing nigh on impossible things, which should make kids feel inspired about playing the sport, but probably leave them feeling like the Napoleon Dynamites of their chosen Sport. The latest is from the All Blacks, who have decided to intimidate the world with the following video of a training session.
For better value, watch the spoof, by the Brumbles, one of the cutest sounding Rugby teams in the world. They're probably trained by the Wombles and next week will be lining out against the Fluffies. I know I know, they'd still kick my ass.
THE DAMNED UNITED

AND TOUCHING THE VOID
Perhaps one of the great sports novels of the last twenty years, "The Damned United" by David Peace, gives an insight to the obsessional, twisted, and ultimately successful mind of Brian Clough, one of footballs managerial warhorses of the last 50 years. Even if you're not a soccer fan and have no interest in the history of the sport 20 years ago, the book is a riveting portrayal of getting what you want at any cost, and paints an incredible picture of the close ties and ultimately disastrous betrayal of his right hand man, Peter…. It was later turned into a film with Tony Blair, sorry I mean Michael Sheen playing Clough. The film can't match the book but there's some nice moments.
Touching the Void

on the other hand is a scarily true account of two climbers who get into a life threatening situation, where one of them is dangling over a cliff. The anchorman decides to cut the rope as he believes his colleague…(we won't say friend…doesn't sound right here) is dead. He's not, and crawls his way to base camp. Awkward!!!!

It, again was turned into a film and here's a treat for celebrity spotters, I actually met one of them on a BBC Radio show. He was the cutter, not the cuttee. Nice chap. I just made certain I stayed ahead of him going up the stairs. Just in case.
DISTRACTION FOR A FRIDAY AFTERNOON
So, what to distract you with on a Friday afternoon, there are a bunch of football games online to take up the last few hours of the day. If you fancy something akin to a free version of Fifa, then you could do worse than Power Soccer
http://www.powersoccer.com/
If you're feeling silly, then certainly have

a look at this peach where you play with bumper cars' and a giant football, on an icerink, yes you heard me, bumper car's and a giant football.
http://www.bumperball.com/
If you only have a few seconds to waste, there's free kick, although it is just a little bit addictive… just a little bit….
http://www.freekickfusion.com/
LESSON FOR THE WEEK…
Why play football for 130K a week when you can play it for 250K a week (not quite a lesson, more a parable of the modern age, if Jesus ever comes back, it'll be as a footballer, and his agent, yes you guessed it, plays the part of Judas)